Alcohol and Drug Addiction - Substance Abuse Treatment
Chris Colasuonno, LCSW-R, is a psychotherapist and addiction counselor who has a specialty in alcohol and drug treatment in Westchester and Putnam Counties. Chris is a Credentialed Alcohol and Substance Abuse Counselor (CASAC) certified by the New York State Office of Alcoholism and Substance Abuse Services. Chris has provided addiction treatment to many clients in Westchester and Putnam Counties, offering substance abuse counseling and addiction treatment. As a counselor specializing in private addiction treatment and interventions, helping addicts and alcoholics and their families with therapy and counseling is my primary goal.
Putnam and Westchester County Addiction Treatment
In being an addiction counselor, the first step is assessing and selecting the right level of care. Chris has worked with many families and provided addiction intervention services with a caring and empathic approach to help the addict or alcoholic. Through treatment and understanding of addiction, Chris Colasuonno, LCSW-R, CASAC offers confidential substance abuse psychotherapy, counseling, and addiction intervention in Westchester and Putnam Counties. I provide the therapy, counseling, and support services that individuals who are battling addiction and substance abuse issues need in Westchester County and Putnam Counties. As a certified addiction treatment counselor who has helped individuals with almost all types of drug and alcohol treatment needs, it is important to understand the many dynamics of addiction, from treating the individual to how it impacts the family.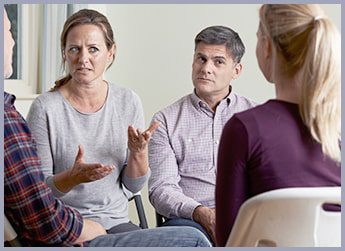 Addiction Treatment Services
In working with couples and adults, I utilize cognitive behavioral therapy techniques in helping lower anxiety and depression to deal with substance abuse issues. This approach allows for good treatment. My psychotherapy and counseling clients have often commented that they feel safe and understood as they seek help in a non-judgmental psychotherapy setting in the Westchester and Putnam County area.
Chris is an experienced addiction therapist who uses cognitive behavior therapy and other psychotherapist counseling models to treat addicts and alcoholics in the Westchester and Putnam County area with lower anxiety and depression. Call Chris for a free consultation if you are trying to cut down on alcohol, tobacco, gambling, and drugs.
What Is Your Situation? – Chris Has Probably Treated It!
Family member addicted to heroin?
Drinking too much; need intervention?
Is the alcoholic or addict in denial?
Is your marriage or family suffering because of drugs/alcohol?
Binge drinking?
Do you abuse marijuana?
Are you worried about what's going to happen next?
Are you an Adult Child of Alcoholics (ACOA) or any other drug?
Are you driving drunk or stoned? Got a DWI?
Are you stoned every day?
Alcohol withdrawal?
Is your family member in withdrawal?
What is a functional alcoholic or addict?
Worried about an overdose?
What types of treatment are there in Westchester and Putnam Counties?
Symptoms of Drug Addiction
Having More of the Drink or Drug to Maintain the High
Sudden Personality Changes
Anger Outbursts That are Unusual
Withdrawal from Responsibility
General Changes in Overall Attitude
Loss of Interest in Favorite Things
Missing Work or School
Changes in Friends and Reluctance to Have Friends Visit or Talk About Them
Difficulty in Concentration and Paying Attention
Lying About the Amount of Drinking/Drug Use That They are Doing
Sudden Jitteriness, Nervousness, or Aggression
Becoming Increasingly Isolated
Aggressive and Irritable
Deterioration of Physical Appearance and Grooming
Avoiding Friends or Family to Get Drunk or High
Drinking and Driving
Feeling Hopeless, Depressed, or Suicidal
Continual Wearing of Long-Sleeved Garments Particularly in Hot Weather or Reluctance to Wear Short-Sleeved Attire When Appropriate
Association with Known Substance Abusers
Unusual Borrowing of Money from Friends, Co-Workers, or Family
Blaming Someone Else for Their Addiction
Stealing Small Items from Employer, Home, or School
Secretive Behavior Regarding Actions and Possessions
Poorly Concealed Attempts to Avoid Attention and Suspicion Such as Frequent Trips to Storage Room, Restroom, or Basement
Declining Grades
Forgetfulness
Disappearing Money or Valuables
Sounding Selfish and Not Caring About Others
Planning Drinking in Advance, Hiding Alcohol, Drinking, or Using Other Drugs Alone
Heroin, Opiates, and Prescription Drug Addiction Help
Many addiction counselors in Westchester and Putnam Counties see increased addiction to prescription opiate painkillers and heroin. Heroin addiction is rampant in the Westchester and Putnam County area. Chris has worked with the addicts and families to remove the stigma of shame and guilt while confronting their substance abuse addiction. Drugs are prevalent in the suburbs where grassroots organizations were formed in response to the heroin deaths, such as Drug Crisis in my Backyard. Many people get addicted to opiates accidentally and don't know how to stop. Chris has assessed, treated, and been an interventionist to many addicts. We will work with the addict coordinating care with medical professionals to help eliminate the withdrawals from drugs and alcohol. Being an experienced substance abuse counselor and addiction therapist, understanding the heroin and opiate drug problem is crucial for the addict to get treatment in Westchester and Putnam Counties.
Alcohol Abuse - Drinking Too Much?
Alcohol is one of the most addictive substances causing many serious problems. Thousands of individuals are addicted to alcohol in the Westchester and Putnam County area. Often the alcoholic can't stop drinking despite consequences from work, family, and legal areas. Over time the individual starts to abuse alcohol with increased frequency and tolerance. Often the person hides their drinking and isolates. Then shame and guilt usually take hold where a negative cycle is reinforced. Through psychotherapy and addiction treatment, Chris has helped the problem drinker through cognitive behavioral therapy in Westchester and Putnam Counties.
Has alcohol hurt your family?
Do you want to stop?
Are you scared of being an alcoholic?
Does your drinking cause shame or guilt?
Proudly offering Counseling and Therapy in all areas of Westchester County, Putnam County, and Dutchess County including the following communities – Somers, Yorktown Heights, Bedford, Katonah, Cortlandt Manor, Mohegan Lake, Brewster, Armonk, Bedford Hills, North Salem, Mahopac, Mt. Kisco, Scarsdale, South Salem, White Plains, Poughkeepsie, Wappinger Falls, Carmel, Pleasantville, Peekskill, Croton, Rye, Harrison, Yonkers, New Rochelle, Mamaroneck, Larchmont, Purchase, Chappaqua, Briarcliff Manor, Millwood, Mahopac Falls, Baldwin Place, Hawthorne, Elmsford, Valhalla, Newcastle & Putnam Valley, Phillipstown, Kent, Southeast.
Psychology & Therapy services provided including but not limited to: